New Name For the Dating App: NEWPL Becomes Fantasy App
In May 2016 we published the first article Polyamorous Relationship–For More Than Two on our sex-positive blog NEWPL. Now, in May 2017, we are happy to announce our second birth: NEWPL becomes Fantasy App!
The first name – NEWPL – was coined as an acronym for "new people". It conveyed the message of the app to have been developed for a community of new people who share the ideas of sex-positivity and alternative types of relationships. This meaning was relevant until we learned more about the app first users.
For almost a year we have been traveling around kinky parties, sex and sexuality-related conferences, the events of the SexTech world. In 12 months the Fantasy team has set its record having visited twenty-seven sex-positive events in six countries on two continents. This activity, as well as communication with the blog readers and the app first users, has fostered our understanding that new people in NEWPL style are not an extravagance in developed world, they are not new but living at the present day. Thus the name has turned to be not perfect.
This made us give thought to what was the second most significant aspect in the app besides the people. Obviously, they are sexual fantasies. We know for sure that everybody comes with their unique fantasies, but there's always someone with a fantasy matching yours. Fantasy App is a perfect name to convey the app idea: finding users who match by fantasies.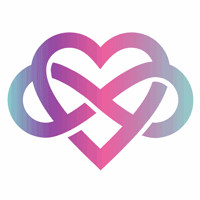 We keep the app logo of the heart and infinity sign–the symbol of polyamorous ideas. We take it as a symbol of maturity in relationships, the ability to empathize each other's feelings, of long-term deep relationships. The word Fantasy under the logo reminds us of the bedrock of long-term and trust-based relationships–fantasies that match with those of the partner.
More on Fantasy App: name, release date and plans
Behind the name: Fantasy App
Fantasy App is a new dating app that matches people by sexual fantasies. Fantasy App helps finding partners for sensual intimate experiences, for sharing own fantasies and learning the fantasies of others.
Fantasy App describes its users and readers as people who:
- know their fantasies and appreciate them;
- lay weight on interpersonal feelings and relations;
- are ready to talk about sexual fantasies;
- want to live their fantasies out;
- are curious about new things and take to experiments;
- never condemn the diversity of sexual fantasies;
- have a sense of humor;
- explore their sexuality.
The mission of Fantasy App is to turn the world to its more educated better in terms of sexual fantasies and human sexuality in general. Because sexuality implies something deeper than mere physical intercourse. This is a means of cognizing the self and the world around.
The app release date
We have passed the exciting and interesting period of creating new dating app according to our own unique idea. As of today, we have already introduced many modifications based on the feedback received from first users–our gratitude goes to you as well! Your attention and your tips have helped us reach the final stage of development.
At this moment we are working at:
public and private profiles:
Public profiles do not reveal your fantasies (unless you wish to disclose them to everyone). This part of the profile is available only after a confirmation of a mutual match. In this way, you have more to discuss upon initially liking each other;);
profile public and private photos:
Public pictures get to the app from your social media accounts; private pictures are those you upload yourself–and you control the way they are shown to others;
the mechanism of disclosing fantasies:
Your fantasies belong to you only, no one has ownership over them. Our sexuality is linked to our manifestations and the deepest layers of our personality. We work with a database of fantasies (500+ and counting!) as open-minded sex-positive people continue to live out their deepest desires.
Our developers are also looking for a possibility of creating the algorithm of machine learning and artificial intelligence in the sphere of human sexuality. Because we want all fantasies of our users to match perfectly!
So what about the release? We don't announce the exact launch date but give you the year - 2017. Read us and wait for news!
Fantasy sex-positive blog
We continue to operate our Fantasy blog about sexuality and alternative relationship types. The purpose of the blog is to upgrade the rate of sex-positivity. To attain this, we use our blog to:
- share reliable knowledge and research data about fantasies and feelings;
- show the world beyond social norms and standards;
- tell about the real experience of our subscribers and users.
In our Fantasy sex-positive blog you can find articles about:
The inspiration for posts comes from our readers and their feedbacks. Some materials for articles are also taken from this related source: the stories of our readers. So if not yet subscribed, you can do it by using the subscription form. It gives you a chance to learn about the app launch and receive our articles once a week.