The New World: Places To Act Out Your Sexual Fantasies
After one year of offline and online journeys Fantasy authors have learnt world to be full of places for acting out one's sexual fantasies. They shall suffice to do a good big book. That's why the first article Eyes Wide Open; a Guide To Kinky Clubs and Kinky Parties was dedicated to European and British projects only.
The present one is coming as an ode to kinky parties, kinky/swing clubs and other venues and events of the USA that welcome sex-positive people and those exploring their sexuality.
This festival is never represented as a kinky-, fetish- or swing-styled event. But the pictures of playa residents, their dressing and image trends come as a telltale sign of their sex positivity. These guys denude without a second thought and are happy to don an explicit sexual image and wear it for almost a week.
The festival principles – those of "radical self-reliance" and "radical self-expression" – push the limits of self-manifestation means, including the ones of sexual character. The festival territory is a platform that secures freedom of consensual performances.
Numerous articles describing the event emphasize the spirit of freedom, experiment and permissiveness provided by the festival area, suggesting there is a place for sexual experiments and kinky pavilions.
Burning Man has its own space for living out sexual fantasies - the Orgy Dome. A "camp" for group sex, it is organized by a couple who's been doing it for 14 years now. They say in 2016 there were over 9000 campers who came through the Dome. A large-scale party it was:). The organizers' basic requirements in respect of the dome visitors is sex positivity, intent for sex and obeying rules of consensual conduct in terms of any interaction with other playa residents.
Miami's Fetish Factory
The club that is proud of its age - 21 years old - is located 35 miles from Miami downtown.
Its background resembles the stories of many other fetish clubs. The founding couple once created a space for personal delight that later fostered emergence of South Florida community of fetish parties adherents.
The fetish dress-code is very diverse and welcomes costuming that features "leather", "vinyl", "Gothic", "fetish glam", "cyber-erotic", "kinky-DRAG (Dressed As a Girl), "sexy uniform" and "Victorian" (the Victorians would have never fancied their dressing to become a bacchanalian uniform).
Buying an online ticket does not guarantee admission unless dress code is passed. "Dress up or stay home!" – this is the club face-control motto. That's it, "dress up" and not "undress". The club does not hold a "nudity" license so that visitors' nipples, buttocks and genitalia are to be covered (anyway, you shouldn't have laughed over Victorians).
Every year Fetish Factory arranges a 4-days kinky festival Fetish Factory Anniversary Fetish that is hosted by a hotel.
Los Angeles fantasy pavilions
Los Angeles is associated with cinema industry and huge areas of shooting stages: the reputation that promises clubs with elaborated interior design and fittings. These expectations are met by venues listed in The best BDSM dungeons in LA review. The article illustrations please the eye with plenty of bright light and self-explanatory details of Los Angeles kinky and fetish dungeons that come in contrast with dark European vaults.
Kinky Salon is a network of kinky clubs described as "a safe space for people of all persuasions to explore their sexuality without fear of judgement". A perfect description that would fit most of kinky spaces. Once inside a kinky event, no one is allowed to criticize other visitors. The founders of Kinky Salon state they differ from other kinky clubs having their focus on "creativity, personal growth and deepening of community connection".
The events of Kinky Salon LA are not regular – usually they are held once in two months.  Maybe because all events are done by efforts of volunteers. So here you have a chance to act out a fantasy of taking part in a kinky party arrangement.
The event is open only for community registered members and only for couples. A couple implies any two or moresome, and those having no partner can bring a PAL (aka pervy activity liason).
Joys of Club JOI
The club community membership is open for couples and single ladies. The club access is available only for those who have fulfilled membership registration. The bonus of registration system is that you can see on the site the community persons who plan to visit the party.
The club parties take 7000 sq.ft. of floor space and are held regularly on Fridays and Saturdays, sometimes also on Wednesdays. The club bars serve no alcohol: probably visitors are sufficiently relaxed and uninhibited. The dress-code is "dress to impress".
Places of San Francisco Bay
The author of  The Best Kinky Events In San Francisco review tells San Francisco to be the USA "kinkiest city". Maybe because of the world's only kink cafe and kinky Folsom Street. And yes, considering the number of KinkBNB offers San Francisco is world's number one  with only LA trying to catch up with it.
One can hardly set a scale to define if a city is more or less sex-positive. The criterion is not obvious – whether it should be a number of sex-positive people, events' area or frequency. So without recourse to comparison we shall simply tell about the city's most sexual locations.
Kinky citadel – Armory
Armory, its full name being San Francisco National Guard Armory and Arsenal, is a  building with its specific history.
Built in 1914, it was National Guard's armory until 1976, serving as a stronghold during Bloody Thursday, and an arsenal after it. During the period from 1920ies to 1940ies the fort was hosting boxing prizefights. In 1976 it was put in a 30-years long' cold storage. In 2006 kink.com paid 14.5 million USD to purchase the Armory. Since then the former arsenal has been transformed into kink.com porn-content production studio. In 2008 they opened it for visits and partial rent as events center and a place to host BDSM-training sessions.
This is not an offline location. Neither it is a party network. This is a guide to the city' kinky events – a map of San Francisco Bay kinky reality.
The calendar is good for listing some of private parties from Fetlife.com. For instance, one can find there a kink.com's party on women's rope bondage (women tying women) or a Pan Sexual Open Play Party at Black Thorn party for pansexuals only. And there is  also Total Power Exchange Brunch Munch where one can share the experience of "being in the loop" and get answers to topical questions from experienced dominants.
The most active and busy community space (if judge by the number of events held). The website's red color design is aligned with the initiative's social character – organizers ask to buy the most expensive tickets to make a pool of cheap tickets for those who cannot afford them full-price. There's a touch of socialism one can sense in the entire process of events organization and instructions given to volunteers.
The party catch the fancy of those eager to try walking in kinky party volunteer' boots – meeting guests, dealing with coatchecking and boozechecking. Anyone can choose a role to fit one's fantasy to the best.
Good news about dress code: whatever piece of your clothes in not sexy enough, you may leave it at the entrance and come inside without it.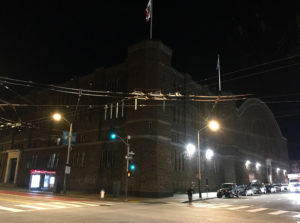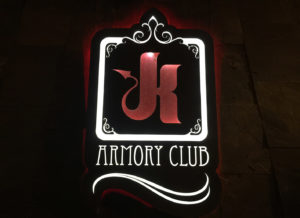 Kinky dungeon – Сitadel
If you are a club newbie, they suggest you'd better come on low-key evening  that does not schedule a themed party like:
- "Flash" (a party with cameras allowed – for those enjoying the kink of being accidentally filmed while acting out a sexy role)
- "Crave" (for people who don't identify as male)
- "Master's Den" (for dominating men and submissive women)
- "Mystique" (for ladies who come top and men who prefer to go bottom)
- "Spank"
- "Transmission" (for trans)
- "Tryst" (for those seeking for an intimate date with kinksters)
A thematic party turns the club into a hot and crowded space. The club events calendar is impressive. The number of sex-positive and sexEd events annually hosted by the club exceeds that held in some of CIS states. While alcohol on the contrary is not welcome.
"Sky is the limit on your creativity" is what they say about party dress code. Probably because competing with others by flamboyancy of your costume is just a kill time. Feel free for large-scale experiments with your image if you want to be like the rest of the club visitors:). Officially New Bohemia parties require no dress code, but explicit nudity for nipples, buttocks and genitals is prohibited (it isn't Berlin). No cameras or weapon allowed as well.
Almost every San Francisco event for sex positive people has a separate paragraph placing a ban on firearms, and many kinky parties have alcohol restriction. It's like a safeguard measure for hot and passionate hearts of San Francisco citizens!
New Bohemia party is held in Armory studio.
Safe, exciting and incredibly fun: this is how the parties – mostly for couples - are characterized by their organizers. Lonely guests are expected to show respect to both partners in a couple, with sex positivity and openness to new experience being an essential prerequisite.
Tangerine's Dream is not a club yet a community arranging same-style parties in different places of the Bay. For instance, swing-train from San-Hose to Ventura and back. The world's only swing train, it seems to be a perfect place for swing dating. Tangerine's Dream also organize parties at Livermore or San Jose villas with swimming-pools and Silicon Valley view. The bar is provided only in "bring your own" format. All parties are available for the community registered members and party tickets are sold out prior to event start.
Organizers have paid due attention to their parties etiquette specifying the rules of communication. We enjoyed the: "Not sure about the message you are receiving? Go to rule number one – ASK (verbally) before touching".
Diverse world of sexual fantasies
Our reviews show there's a considerable difference between sex-positive spaces of the Old World and the New World. A long list of the USA events is noted for their niche specialization, more democratic dress-code but with less chance for nudity.
In Europe they would prefer to see you dressed according to strict code, but shall later allow you to go naked. In the USA you may come to a kinky party in your office garments, but not every club shall welcome your public undressing. Sex positive clubs of Europe are often open for new visitors, while in America you shall in most cases have to register beforehand. In Europe they have no alcohol restrictions, yet a US sex event does not imply drinking lawlessness.
Things common for both continents clubs are: parties' etiquette, rules of consensual conduct, priority of communication and positive attitude to sex and new sexual experience, open possibilities for living out your sexual fantasies.
To learn more about kinky clubs of New York read New York City Venues: Where Sexual Fantasies may Come.