Top 10 Threesome Websites - Fantasy App
The ménage a trois, otherwise known as a threesome. Few things are as high up on many's fantasy list, and its popularity is reflected in the countless references it gets in pop culture. But have you ever wondered how to find one? That's where a threesome website comes in.
As with many no-traditional sexual practices, the best way to go about fulfilling your fantasy is to find a place full of like-minded people who share your kinks.
That's where our technology-driven world comes in handy. The stigma against dating apps has long since dissipated. You can find anything online these days, from true love to your deepest, most sexually charged fantasies.
But since the number of apps to find what you want is large and the dating pool is even larger, we've helped you out by collecting the top 10 threesome websites.
Things to Keep in Mind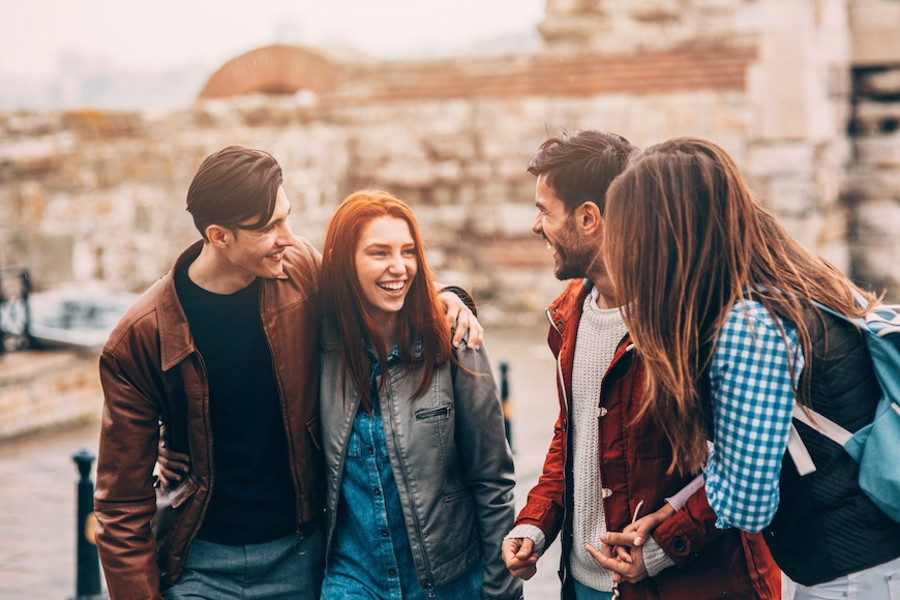 A threesome doesn't always have to be between two females and a male. Sometimes, it doesn't even have to involve males at all.
Or perhaps you'd like it to be an all-male experience?
Whatever your wants, just remember to keep yourself safe. Discuss everything with everyone involved, set boundaries, and ensure that every person is comfortable with the threesome. Remember that this is supposed to be a night to remember for good reasons, not bad ones.
Maybe start by setting the mood. Make it romantic with candles and wine. Be attentive to your partners and make it a night to remember.
Always bring protection and take precautions when meeting people you don't know for the first time.
The World's 10 best Threesome Websites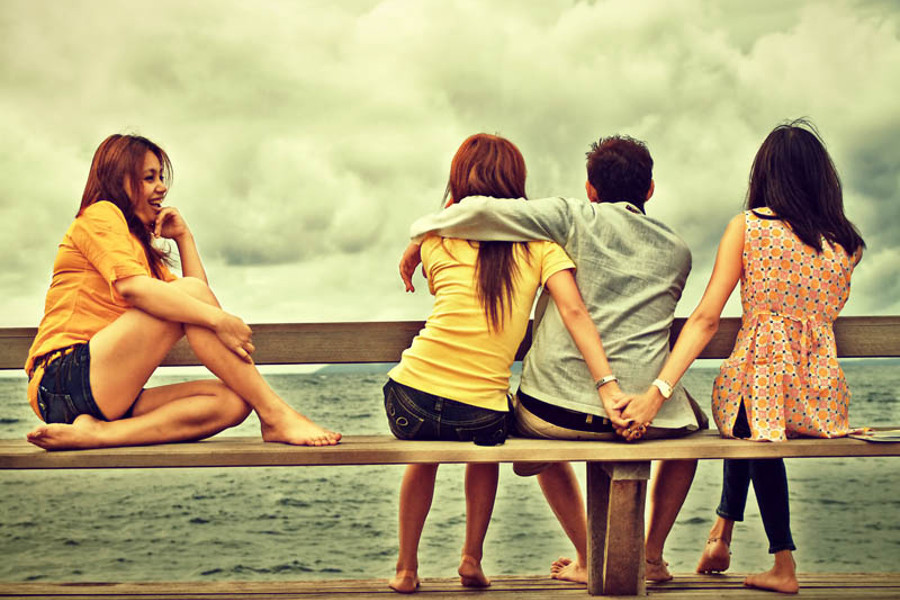 Adult Friend Finder
If you've been online dating for any length of time, then this addition to our list of threesome sites will come as no surprise to you.
As one of the world's largest sex and swinger platforms, Adult Friend Finder has established itself as an excellent place for people with less mainstream sexual desires to find like-minded persons to engage in their fantasies with.
With a two-step registration process, you can get to finding your ideal threesome partners pretty quickly. Enter your gender and preferences, including whether you're into men, women, both, or couples--and that's all you need to get started with this threesome site.
Whether you're single or looking for a couple, Adult Friend Finder has you covered with a huge member base, all of whom are looking to indulge in tons of different sexual fantasies.
You can also use it on any number of devices as well, be it your tablet, phone, or computer, as this threesome website doesn't restrict its members from finding their ideal match wherever they are.
Another bonus is the live chat that you can add to your membership, which gives you access to nude chat rooms, making this one of the best threesome websites on the market at the moment.
Yumi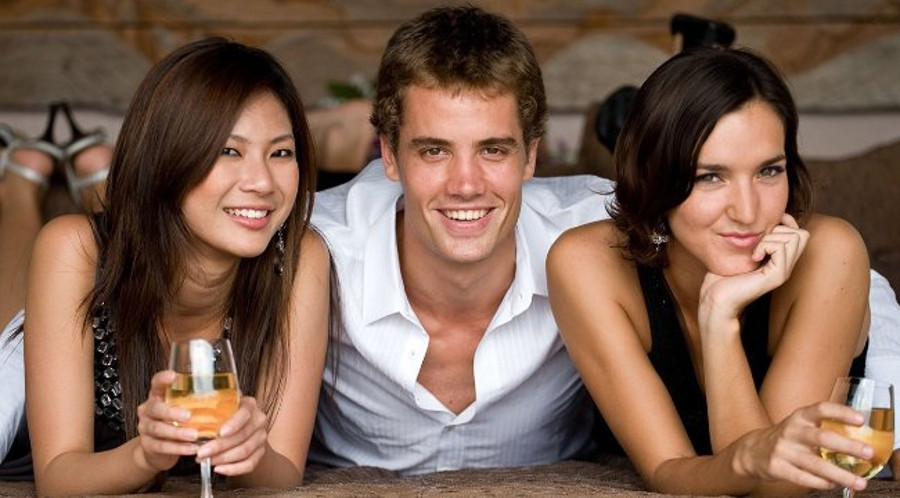 Yumi is another one of the many premiere threesome websites for finding your first (or second) threesome experience.
Designed to be easy to use, private, and anonymous, Yumi was designed for local hook ups and sex chat.
This is the ideal solution for anyone looking for adventurous sex partners, as this wasn't made to be an ordinary dating app. In fact, it works in a way that is unlike many of the more well known apps on the market.
Once you've chosen your preferences, you'll be given a selection of four different cards on your screen. Simply tap to flip them over and begin meeting with people who share similar interests and desires as yourself. And the best part? It only takes a few hours.
Unlike something like Tinder, which can give you a range of matches from a wide area whether they're online or not, Yumi selects people who are online and near to you, meaning that all you need to do is flip over a card to match.
It's also all completely anonymous. No email address, phone number, social media account, or any other form of personal information needed. You won't even need a profile picture that includes your face, making this an excellent app for one-time flings.
To use it, all you need to do is head to the app store of your choice, enter your gender, gender preferences, and what you're looking for in a partner, before uploading a picture or voice recording. Now you're all set!
Yumi will automatically recommend people nearby who share your preferences, and you can start searching for a partner for all your threesome needs!
SDC
SDC, which stands for Seek, Discover, Create, is an excellent swinger dating app and site that can also be used as an ideal threesome site. It has a wide userbase of open-minded members, meaning that this easy to use app will offer you an excellent experience – no matter what you're looking for.
Another bonus is the ability to pair your profile with your partner during the easy registration process, giving it a leg up on most other threesome websites by allowing you and your partner to search for the perfect match together.
SDC also allows you to see people who are online, making it easier to contact other people with the same intentions as you and get down to the threesome a lot sooner than expected. Nearby members and couples will be displayed on a map in real-time, allowing you to find anyone in your area looking for a night of passionate fun.
Your registration gives you access to live chat, so you can do some preliminary research to check whether you click with the people you're meeting beforehand. Then we have the apps on both iOS and Android, so you can browse for the ideal match wherever you are.
All of this means that SDC becomes one of the best threesome sites for anyone looking for like-minded partners.
Feeld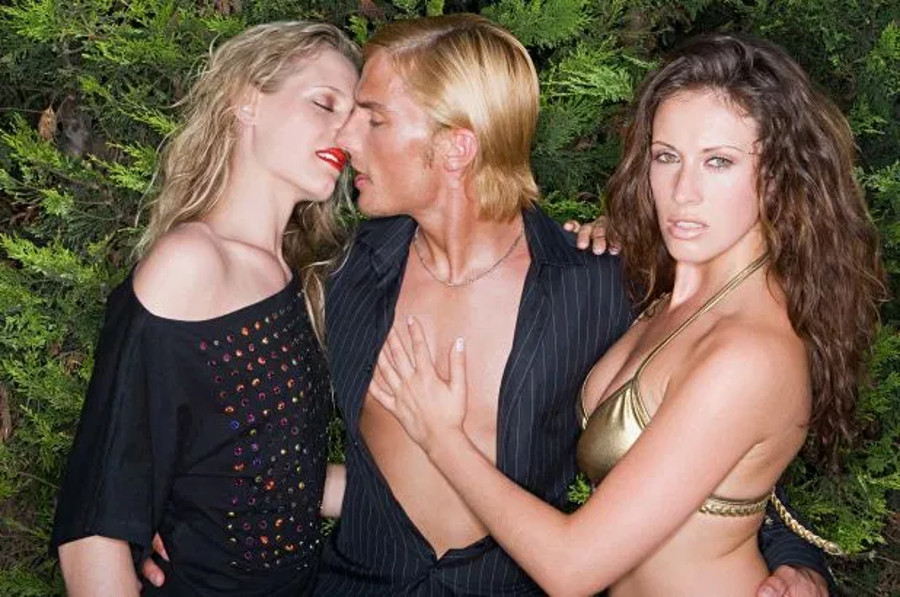 Feeld is one of the more advanced threesome websites and dating apps on the market, suitable for both singles and couples looking for a new sexual experience.
Available as an app for both Android devices and iPhones, it also gives you the chance to pair your account with your partner so that you can both search for a third to join you in bed. This will help immensely, as it allows you and your partner to search together for someone you will both be keen on.
One of Feeld's best features is the ability to stay completely anonymous, so that you can keep your profile secret from others in your environment, including friends and colleagues. It's also full to the brim with open-minded couples and singles looking to spice up their sex lives, either with threesomes or other adventurous ways.
Speaking of singles, Feeld has you covered there as well. Simply join the community and search for a couple looking for a single to join their fun times!
It's all based on respect and safety – as with any good dating app – so keep in mind that there will be some rules to follow. But as long as you do that, you're sure to have some naughty fun!
Mixxxer
Mixxxer, despite being a clever name for a dating website, is also a hookup platform that functions as one of the better threesome sites on the market.
Suitable for both couples and singles, all you need to do with this example of a threesome website is to enter minimal personal information, including your gender, age, and preferences, before you can get started.
Another thing it has going for it in the realm of threesome websites is the fact that it has been designed with couples in mind as well, so you can choose from male-female or queer couple options. It's also restricted to adults-only, meaning that your clothing is optional in your profile pictures, but the team behind it is dedicated to keeping you safe and secure.
Mixxxer has a GPS-based locator, letting you find a hook-up or couple looking for a third partner easier than some other threesome sites. It connects you with people nearby, letting you get down to the fun stuff sooner rather than later.
Also unlike other threesome websites, Mixxxer has the adults-only thing going for it, meaning that sexually explicit photos on your profile are totally okay.
3Fun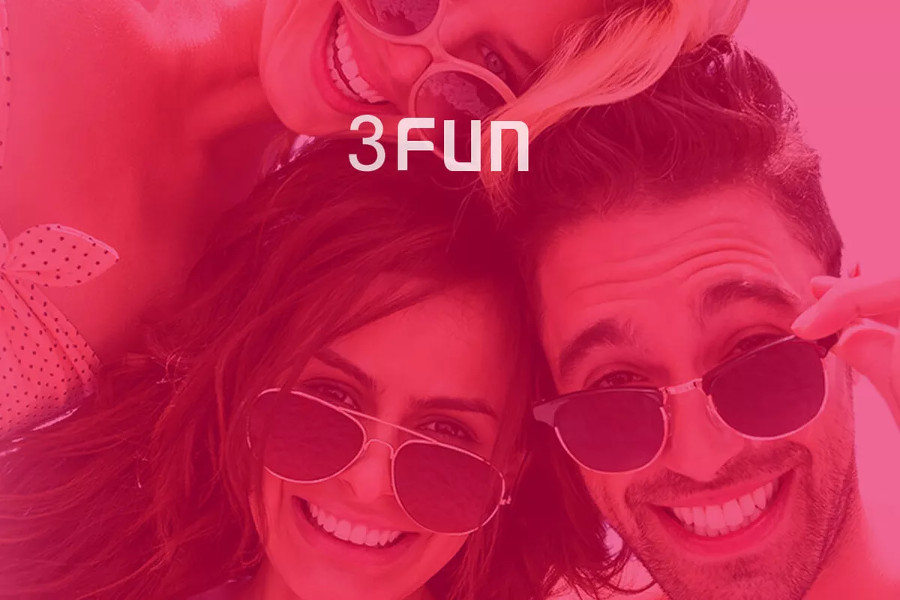 3Fun is one of the safest threesome websites on the market today, and is suitable for anyone looking for threesomes, BDSM, and swingers. It's easy to enter as well, as it is available both on the Appstore and Google Play.
Like other threesome sites on our list, 3Fun gives you the chance to find nearby couples and singles, but the best is yet to come. The developers of this app have increased the security of it, as they are more than aware of the online scams that usually plague threesome websites like this.
3Fun has a unique verification system that eschews the traditional Facebook account verification in favor of something more advanced, ensuring that everyone on the site is 100% real. This extra layer of security helps everyone on the app feel more at ease than they would with other threesome sites.
They also have a Privacy Protection system in place to ensure that you can hide your more private photos from other users, allowing only your matches to see them. You can even hide your profile from people you haven't liked, giving you that extra bit of protection against prying eyes.
Open Minded
Open Minded is another one of the threesome websites on our list intended for more sexually positive people, with the added advantage of having chosen a very apt name for their site.
This site will help the bored, the stuck, or those who have been harbouring fantasies for years finally live them out by finding the perfect match for them. Excitement is the name of the game here, with a user base that is full of people that are looking to experiment.
Anyone with a sex-positive attitude is more than welcome on Open Minded, as it allowsyou to explore all your needs and fantasies, including the famed threesome. Its user base is also full of people who share the same attitude as you do, which is the number one reason that you're exploring threesome websites in the first place!
Poly Match Maker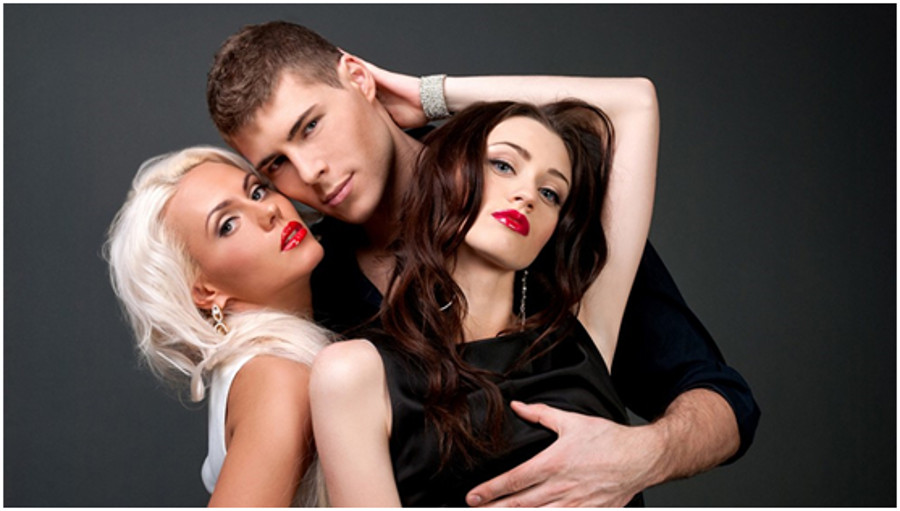 Poly Match Maker is one of the threesome websites on our list that is perfect for anyone who is open to open relationships, equality, non-monogamy, freedom, sexuality, and polyamory.
In fact, in order to get your first threesome experience, all you need to do is register, create a biography, and get to matching!
Say a little about yourself--or say a lot. Give your relationship status, the dynamics of it, and what you're looking for. Add your interests as well to give others on the site an idea of what you're into. Every detail you add will help you find the perfect match for you.
As one of the world's largest hook-up platforms, Poly Match Maker gives you the chance to find all kinds of entertainment, whether you're a swinger, polyamorous, non-monogamist, or just a curious single person looking to try out new things.
It has over 75,000 registered members, making it one of the more densely populated threesome sites out there, giving you lots of chances to find what you're looking for.
3Somer
With a name like 3Somer, this is one of the more on-the-nose titles. With an interface similar to Tinder, this app for singles, couples, and swingers allows you to swipe away to find a match and start a conversation that may lead to an incredible, mind-blowing experience.
3Somer uses GPS location-based information to provide you wish a list of the people and couples nearest to you that are looking for a good time, whether you're on the app alone or with your partner.
It has an advanced coupling system that helps you make the fabled ménage à trois a reality. You can connect with anyone anywhere, regardless of race, sexual preference, or religion: 3Somer is a stigma-free environment. It provides a good space for like-minded people to live out their fantasies.
Available for both iOS and Android, 3Somer lets you have fun wherever you are in the world.
Fantasy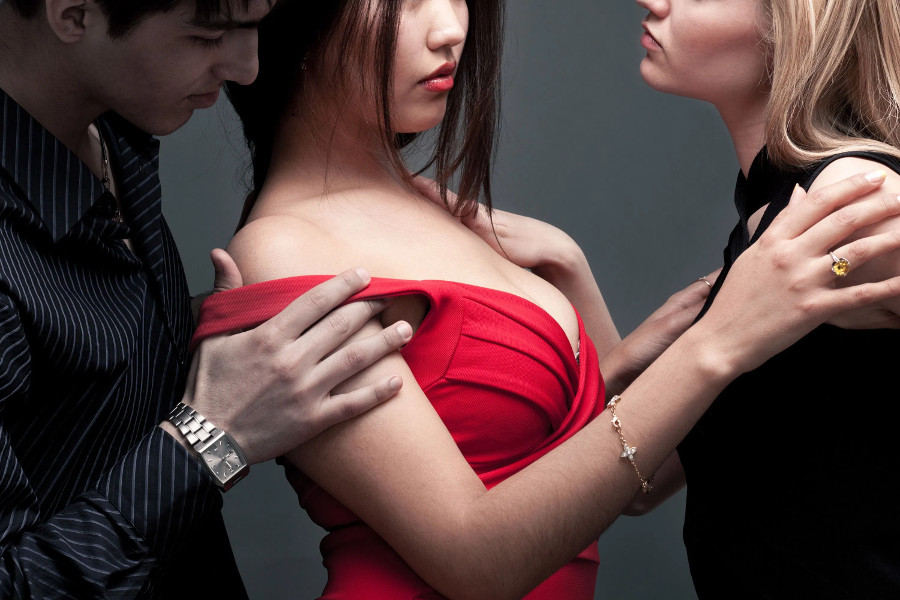 Fantasy is aptly named as well, as it is one of the threesome sites on our list that lets you live out your fantasies. Created by sex-positive people for sex-positive people, Fantasy was designed for the more adventurous among us.
Boasting a huge community of open-minded people looking for all kinds of things, it allows you to easily create a profile and start searching for your ideal match. It was designed to act as your safe space for open-minded, experiments.
As a love positive app, it offers you a huge collection of specially hand-curated fantasies to choose from. And the best part is that they change daily, meaning you never get bored. It's a social network for the open minded, and you can invite your partner or friends to private rooms to discover the fantasies that you have in common.
Create chat rooms to talk to a whole community of like-minded people to learn from the more experienced and get to know people before you meet them, it's an ideal place to meet partners, whether you're looking for a threesome or something else.
Fantasy allows you to discover your fantasies no matter where you are.
And that's our extensive list of the 10 best threesome websites out there at the moment.
Grab your phone, download one of the apps, and give them a go, and you could realize your dream of a threesome much sooner than you expected.
Or maybe you have other threesome website suggestions for us?
If you do, be sure to share them in the comments below!