Meet Fantasy Match!
We stand together with Black + POC community and everyone supporting the Black Lives Matter movement. Diversity and Inclusion are among our core values. We believe that people feel comfortable around all types of gender identities and sexualities when united by shared values. We are committed to creating a culture in which there is no place for racial discrimination. BlackLivesMatter.
1. Context
COVID-19 has changed sex and relationships. Lockdowns introduced by most countries were tough on the best relationships, let alone the people who are just starting one or looking for a partner.
Elizabeth Bernstein from the WSJ is one of many journalists trying to answer the question of how you have sex and maintain a relationship in these challenging times. "Stress and fear are taking a toll on intimacy. But practicing 'mindful sex' can help you better connect with your partner," writes Ms. Bernstein.
While the scientists are trying to define exactly how the virus changed the game, we bring you the answer on how to overcome this change.
2. Needs Of Different Audiences
In today's challenging times, sextech companies are in demand more than ever. Here are some of the audience segments and their needs structured by verticals.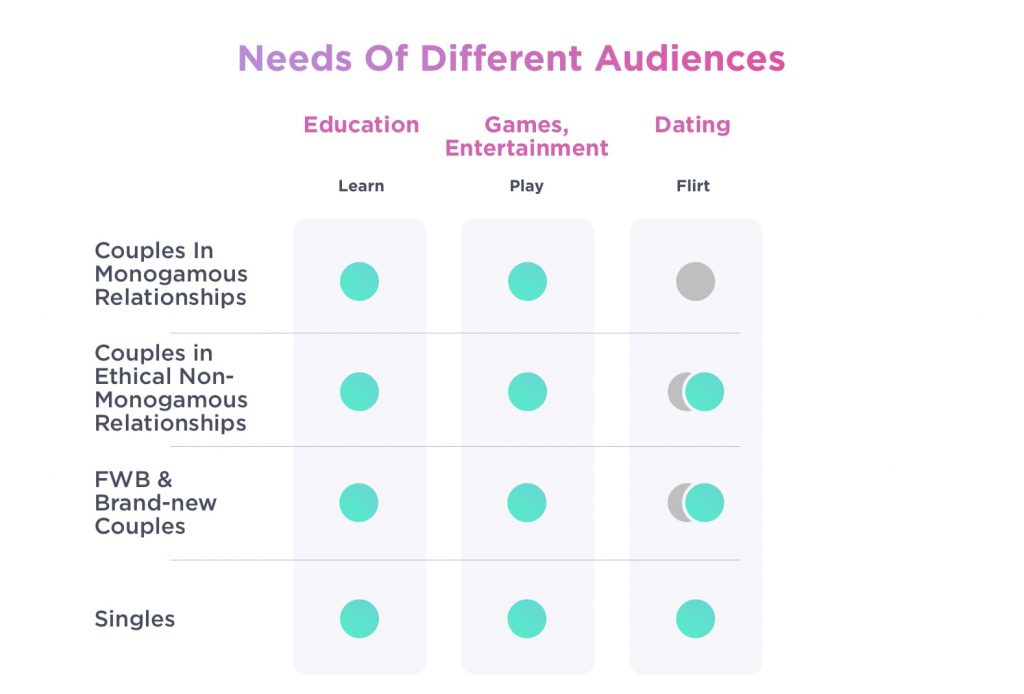 Couples in monogamous relationships don't use dating apps for obvious reasons. At the same time, people whose relationships fall in between might want to use a tool to help them interact with each other. People in ethically non-monogamous relationships might want to connect with other people.
3. SexTech Products Landscape
Now let's look at the products in each vertical and see where Fantasy Match is.
Products in every vertical could be very different; some of them are very specific, while others are made for broader target groups.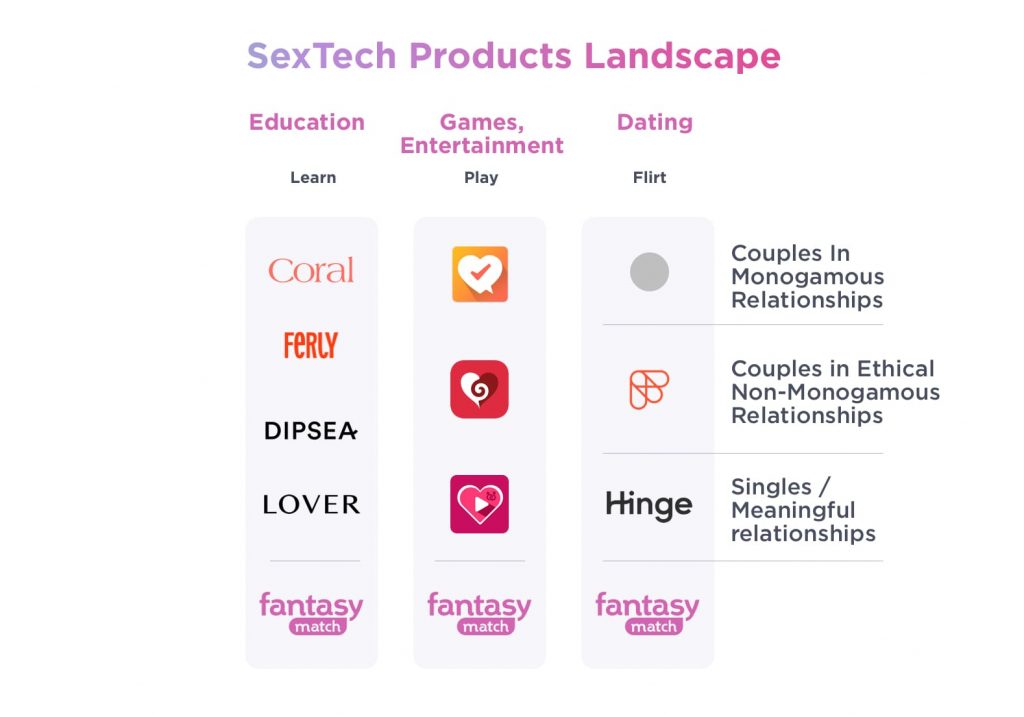 The product landscape visualization shows that products at the market currently fall under vertical distribution. They cover only one needs of each target audience in each vertical.
While products in every vertical might work well, we think that a horizontal product strategy could better serve the needs of all target groups. Fantasy Match gives ideas of conversation starters in a safe and controlled environment. That's what makes Fantasy Match unique. We are the first product that caters to all three needs, all in one single product, keeping in mind the safety and privacy of its users.
4. Meet Fantasy Match: App That Bridges 1) Edutainment, 2) Games, 3) Dating
Fantasy Match helps overcome one of the main barriers to intimacy - the fear of opening up and being sincere. The product helps users to meet like-minded people and gives a variety of conversation starter decks to start a discussion.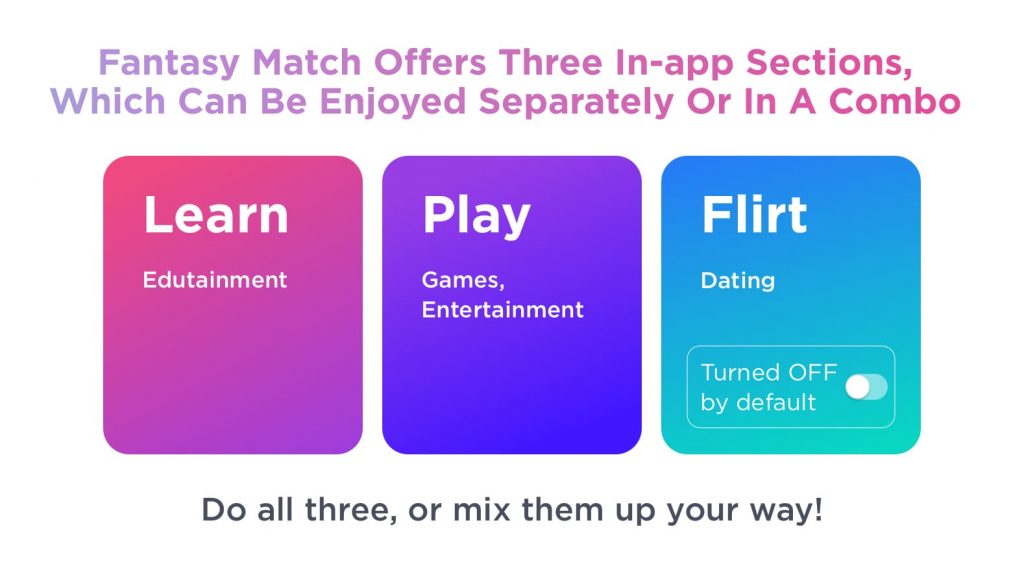 Fantasy Match offers three in-app sections: Learn, Play, Flirt.
- Learn stands for edutainment;
- Play stands for games and entertainment;
- Flirt stands for dating.
All three sections are interconnected through the use of cards, which have curated educational & entertainment content and are organized in decks.
Flirt, the in-app section, is turned OFF by default. A user has to activate the Flirt section if he wants his profile to be publicly visible and be able to see other community members in cities activated in the app.
Let's look at all three in-app sections in detail.
Learn — Sexuality Meets Mindfulness
People can't develop their sexuality and mindful intimacy without knowing what exactly turns them on and being able to express their feelings and desires freely. That's why we believe that we need to re-invent the conversation about sexuality in a mindful way using digital products.
The Learn section is an expert-curated Library with educational and entertaining content. It contains an endless amount of sexual fantasy cards to spark imagination and educational cards to help improve sex IQ, broaden knowledge about sexuality, intimacy, and relationships.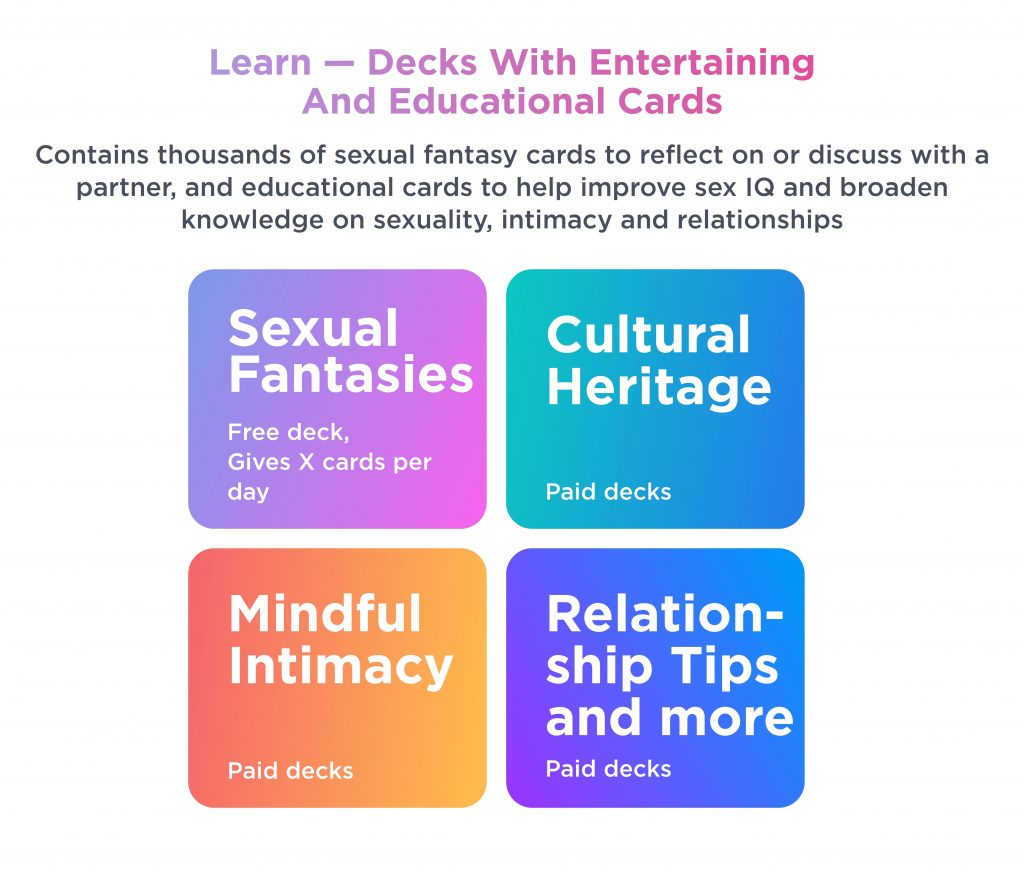 Digital content is curated by experts and created in accordance with publicly available Mindful Guidelines, which prioritize self-reflection, consent, and mindful intimacy and look at pleasure from the female perspective.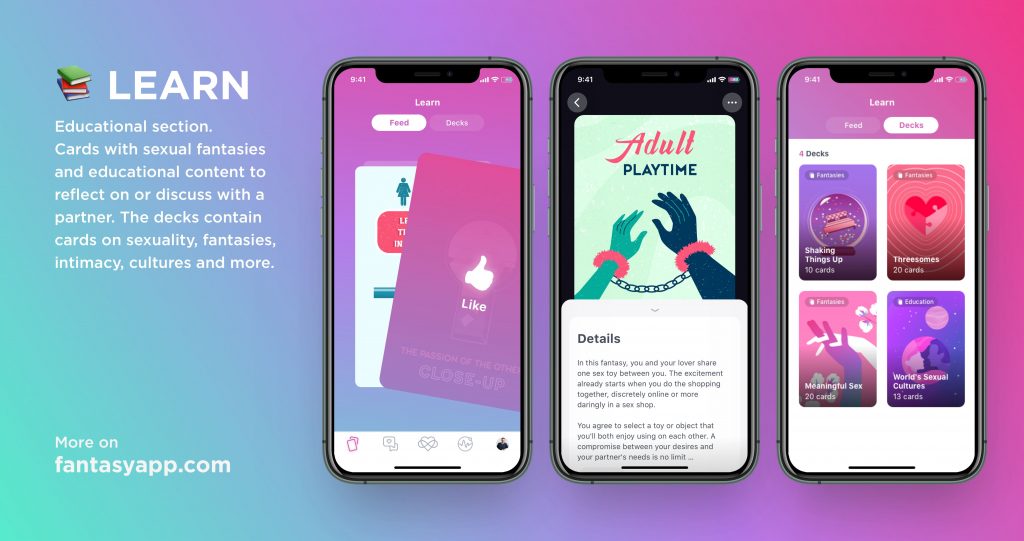 Swiping through the cards in the Feed or getting one of the Decks to broaden understanding on specific topics. Entertaining Decks from Learn in-app section could be used in private Rooms in the Play in-app section.
One of the educational deck we've created is uniquely designed World's Sexual Cultures.
This unique deck is designed to expand knowledge about the way people related to sex, love, and morality in different cultures. We have collected information on sexual culture types from our experts, ancient sources in Sanskrit, as well as the works of a large number of authors: anthropologists, psychiatrists, philosophers, sociologists.
Play — Private Playground For Conversations
People can invite their partners, lovers, or just friends to private rooms by sending them direct invite links to their rooms in the app. Participants will be able to see only mutual cards and swipe through various new cards from entertaining decks.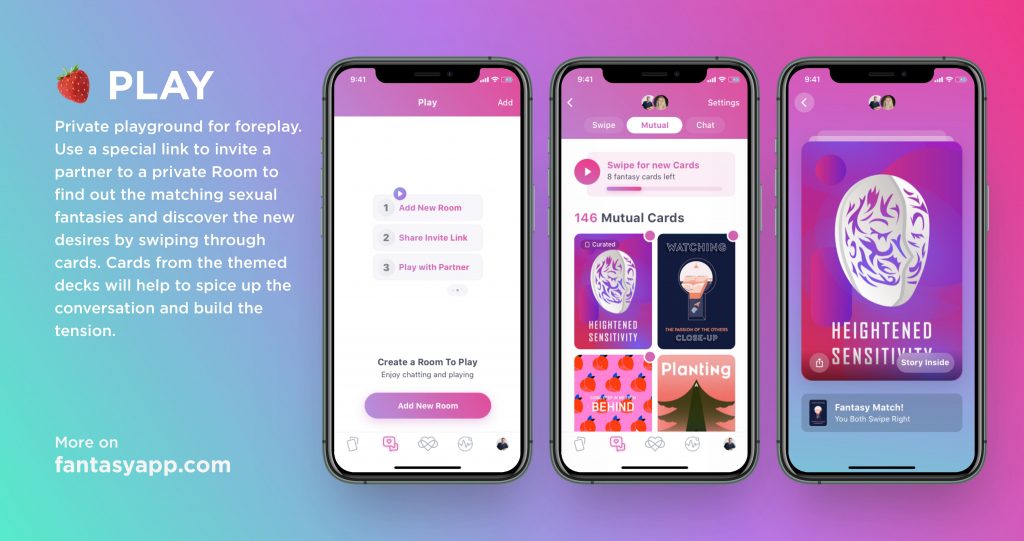 Our product is all about the sincere conversation. When both room participants swipe right on the same card, a "Fantasy Match" happens, which is a great conversation starter.
Users can add additional themed decks from the Learn section and swipe cards from those decks in their Rooms.
Flirt — Dating For People Open To Ethical, Open, And Polyamorous Relationships
The world is becoming a more accepting place.
No matter what the future awaits, we believe that relationships will continue to be the most important part of our lives. We want to help people deepen their intimacy, and we always choose quality over quantity. So that's why we've decided to give control of the Flirt in-app section to our users.
The Flirt section is a safe space that is turned OFF by default. Users have to activate their profile to be visible. Once users choose to make their profile public, they can see other profiles and invite like-minded community members into the Play section to join them in the private rooms.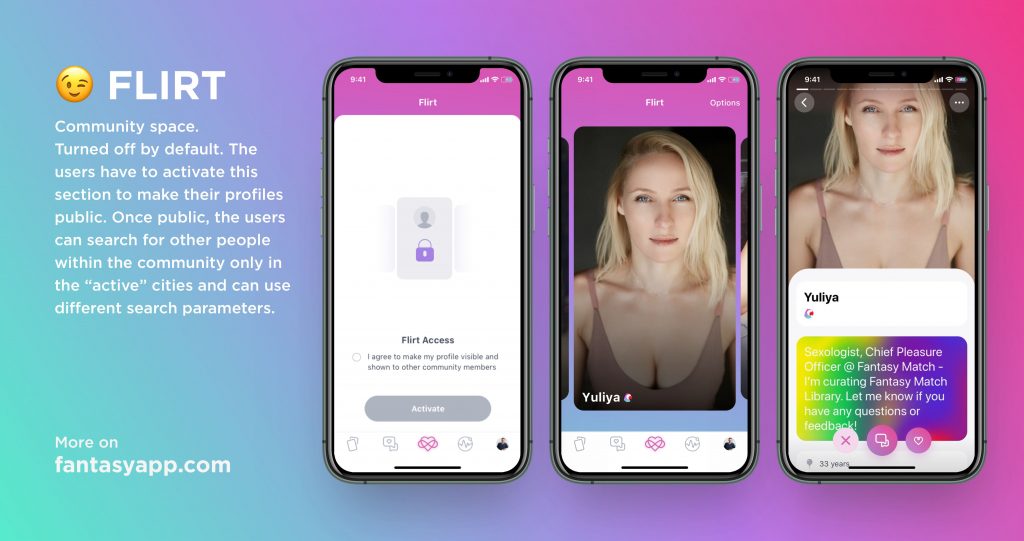 Users need to make their profile active to be visible and to be able to connect with other users. By turning off Flirt Access in User Profile Settings the profile will be hidden from the community.
That's why we say that Fantasy Match combines Education, Foreplay Games, Dating. We mean it! You'll love everything that Fantasy Match has to offer. Learn, Play, Flirt: do all three, or mix them up your way!
5. What We Believe, Purpose, Mission, and Values
What We Believe As Humans
Sexuality is a source of personal growth. Understanding one's sensual desires are the path to sexual well-being. Following sincere desires is inspiring and freeing. The way people feel is more important than the way they look or act.
Company Purpose
Foster a culture of sincere and mature relationships.
Company Mission
Create a culture that embodies a sincere and mature attitude towards intimacy through empowering people to get to know each other better.
Company Values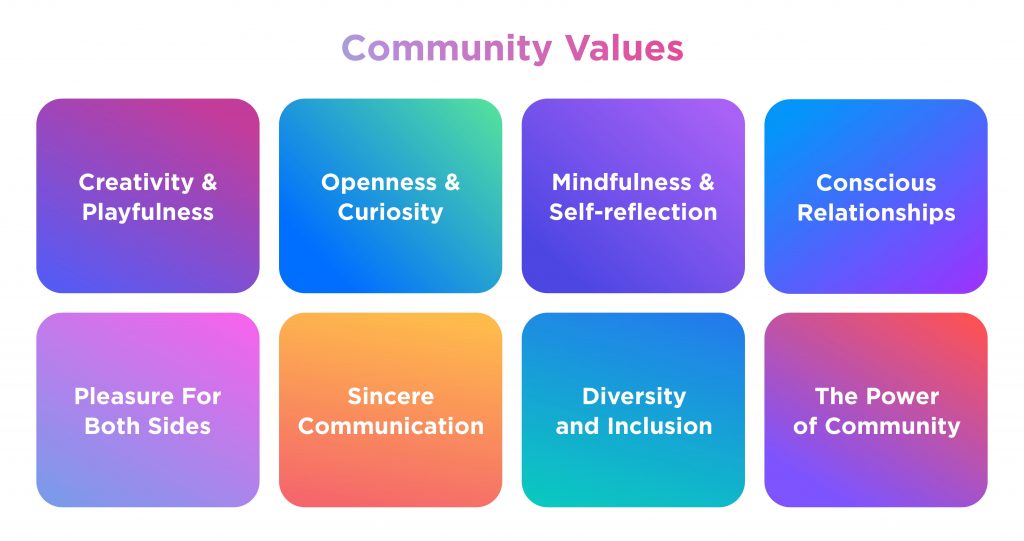 6. Community Platform Model
We've created our company and the app according to our Purpose, Mission, and Values. Building a community is the first step in achieving our Mission.
We think that being sexual does not mean being either omnivorous or pornographic. We are all humans, and our sexuality is our natural way of being. Registering in the app and using it means that people are joining the celebration of human nature, looking to expand and deepen their knowledge about themselves and others, as well as ready to have an intimate and sincere conversation.
We think that complete anonymity in social products does not contribute to creating the culture we want to build. After all, transparency helps to stay more civil and build a deeper connection, when someone wants to start an interaction with other users, be it chatting or inviting to play.
Therefore, we ask users to create a profile and provide their information to have transparency and accountability to join our community. At the same time, the profiles are private by default, so the users are entirely secured. Having a profile, users can access the features whenever they need it.
Since we are a product that celebrates human nature users can choose from 3 gender identities and 11 sexualities. Each sexuality has its own unique colorful design and the animated designs will underline the user's sexuality in a profile.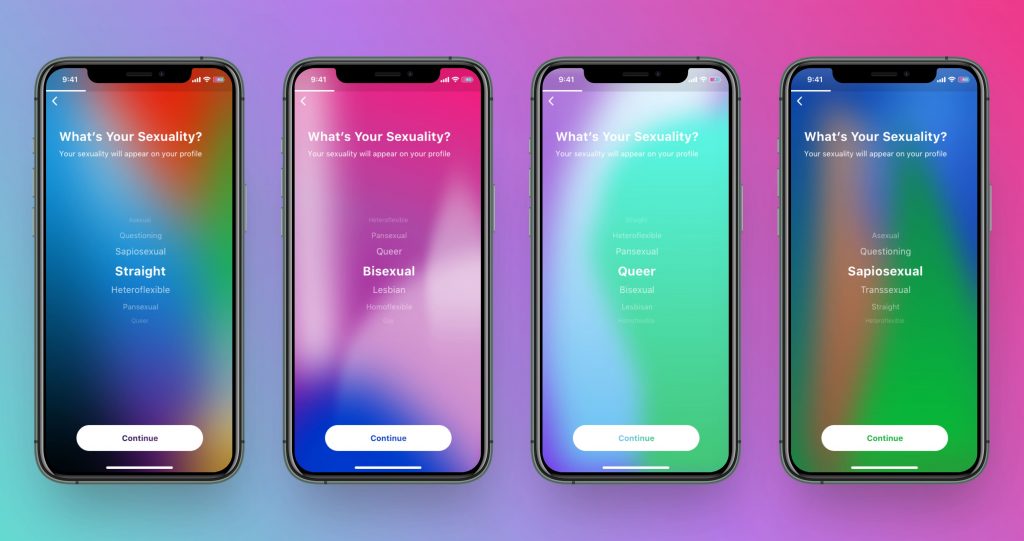 Choose from 11 diverse sexualities. Each sexuality sports its own unique colorful design, which corresponds directly to the official flag. These animated designs will accent on users' profiles based on their sexuality.
Who Is App Built For
We are open to all people who share our Values.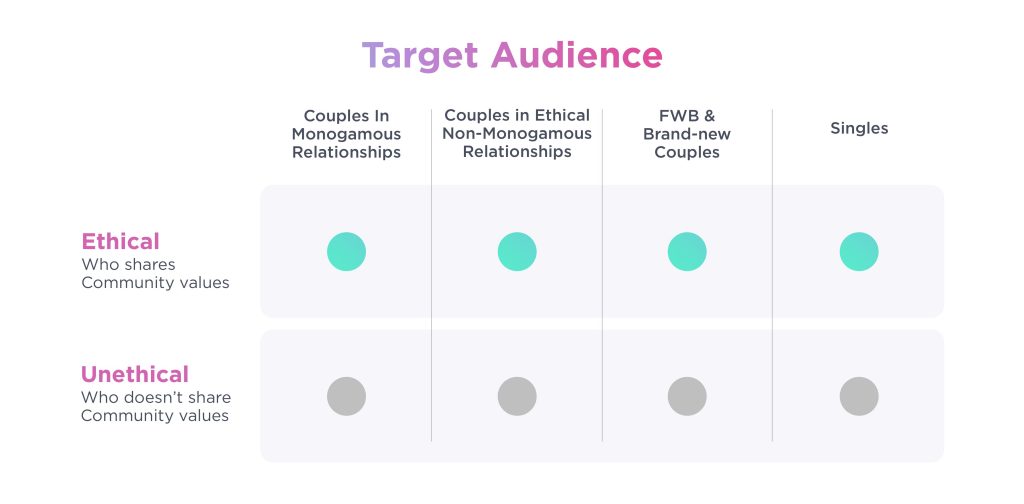 Safety
Our users' safety is our top priority. All users' profiles in the app are private by default so that no one can see them.
The users can access the "Learn" section and share the content with anyone they want without personal info visible in the app. In the "Play" section, the users' profiles don't show unless they send a link to the Room to their playmates. In this way, the users' profiles become visible only to the people who get the invitation. The users have to activate the "Flirt" section to access it. Thus they make the profile public so that others can see their profile.
We offer our users to stay entirely anonymous for other users by default and independently control the level of anonymity in the community, depending on their needs.
Also, we use the following tools to make sure everyone feels safe and secure at Fantasy Match:
1. Technology
We use technology to moderate content on the platform. Photos depicting nudity and other illegal content are prohibited.
2. Moderation
We moderate suspicious activity and step in when the users find themselves uncomfortable and reach out to us.
3. Community
We strive to build a community based on our values and rules. And we want to hear from the community. If there is any content or activity that is unsettling, we ask not to hesitate and report it or reach out to us. We act in the best interest of the community and will make sure that our users' experience with Fantasy Match is fun, exciting, and safe.
Privacy
We understand that every relationship is a very personal journey. Respect for privacy is very important to us.
We are committed to never selling personal users' data.
We've developed our Terms and Conditions and Privacy Policy in accordance with the California Consumer Privacy Act and General Data Protection Regulation. We doing our best to be as transparent, as possible.
The security of our platform and our users' data is our top priority, and we're taking all measures to ensure our customers' data is protected. This includes encryption in transit, data filtering, different network layers, as well as security audits.
The information about exact decks users purchase, the cards they like, or dislike is not shown in the profiles. Mutual cards will be shown ONLY after the user accepts a Room request and a Room is created.
7. Core Team
Meet Andrew and Juliya Yaroshenko, driving force behind Fantasy Match. Given their unique skills and areas of expertise, it makes sense that this duo (and real-life couple) have come together to create the sexual wellness community platform.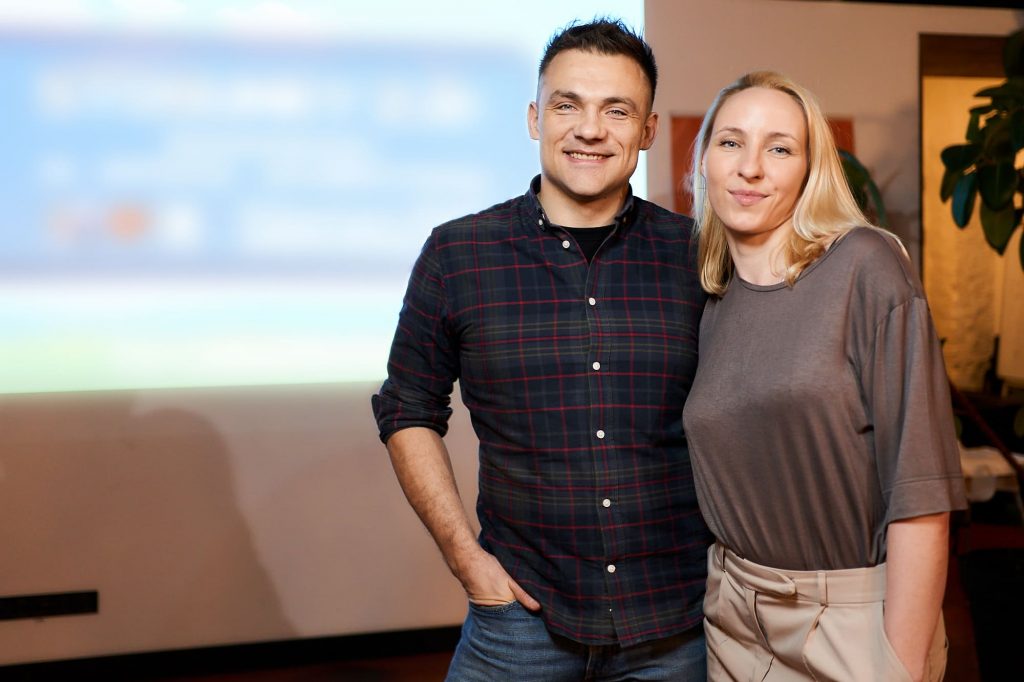 Andrew and Juliya Yaroshenko
Andrew Yaroshenko  —  Founder and CEO. Entrepreneur, sex ed activist, passionate about building purpose-driven organizations and products. Andrew came up with the concept of three sextech industry waves and pushed the second wave through launching the 1st US sextech hackathon in New York in 2017.
Juliya Yaroshenko — Sexologist, sex expert, public speaker. Juliya is curating Fantasy Match educational content. Juliya has 10 years of experience in couples counseling, founded a yoga studio (has 15 years of practice, 10 years of them teaching), learns Sanskrit, reads Kama Sutra in the original language, convinced that studying and discussing sexuality and sensual fantasies makes a huge positive impact on sexual lives, especially women's.
To see the full team visit here.
Our Story
It was human sexuality that bound Andrew and Julia, who have been together 11 years.
Studying this intimate sphere, they visited Khajuraho, a group of Hindu temples and Jain temples in India back in 2015. The UNESCO World Heritage Site, famous for its erotic sculptures, was the place where the concept of mutual desires was born.
Looking at the mesmerizing sculptures, so sensual and beautiful, Julia and Andrew discussed the nature of human desires, and how much we all strive to fulfill them. They came to realize that people would greatly benefit if they would be able to communicate sincere as much as possible. Since then, this intimate and vital topic has become the core of personal and professional growth.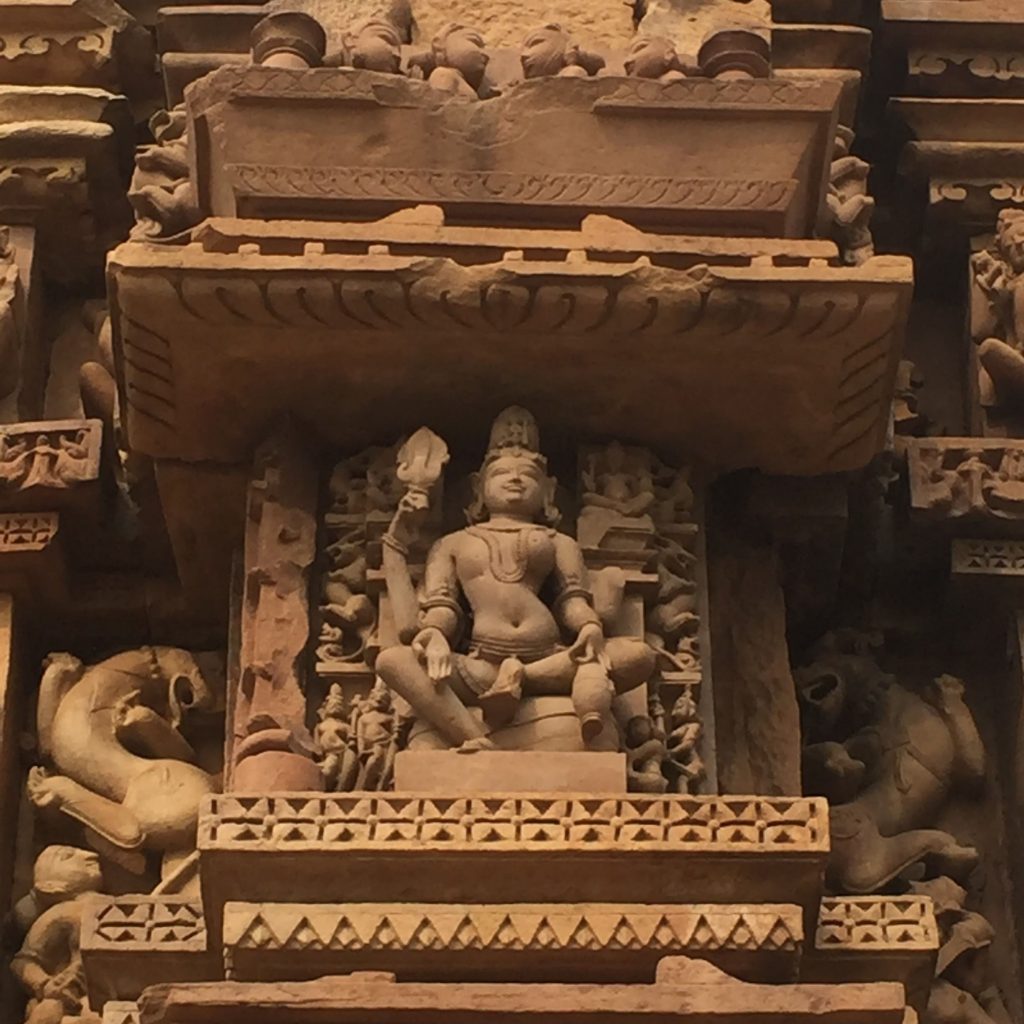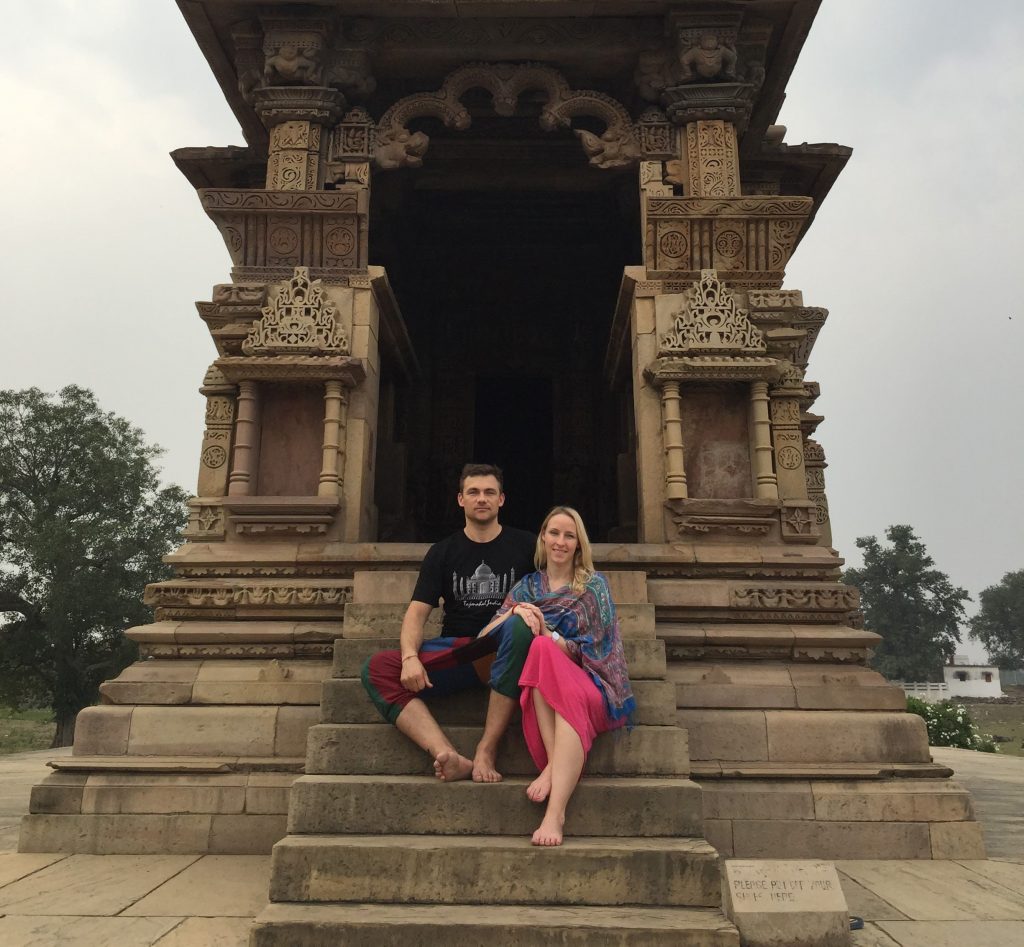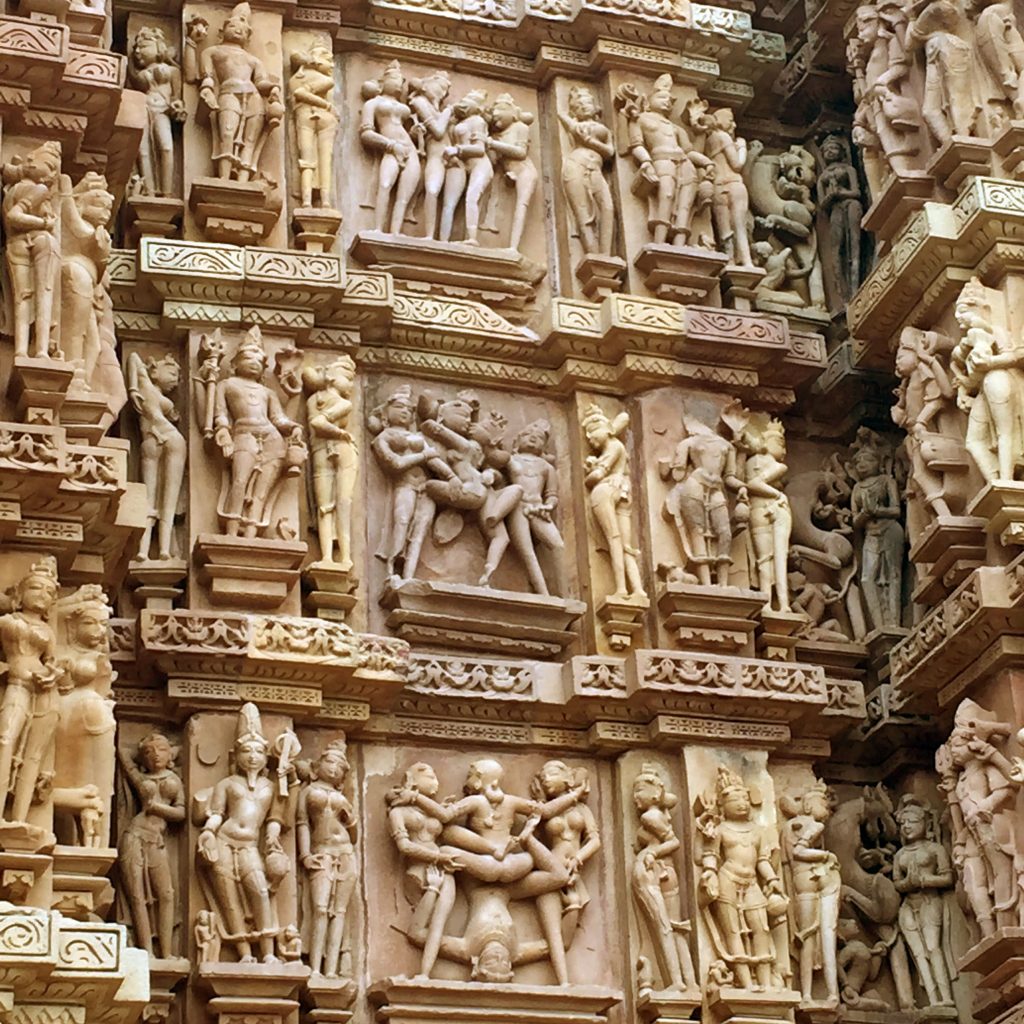 Julia has been a yogi and yoga teacher as well as a practicing sexologist for more than 10 years, while Andrew continuously strives to improve his sex IQ. After they visited Khajuraho, they've realized the need to broaden their knowledge and have received a sexologist's certificates in 2016.
Over the past four years, Andrew and Julia organized a series of sex ed events.
Julia developed her methodology of sexual fantasies analysis. She even wrote a comprehensive study about sensuality and sexual fantasies in Indian tradition, which she uses in her public lectures and while working with couples during her sessions. Julia's passion for Indian sensuality led her to study Sanskrit, to read the Kama Sutra in its original form.
Andrew pivoted into sextech, leaving behind the digital marketing agency, which he co-founded. Together with Bryony Cole, Laura Kingsley, and other activists, he organized America's first sextech Hackathon in New York in 2017.
Andrew and Julia traveled to Egypt at the beginning of March, when there was no indication that the epidemic would go global. But both had the flu on arrival back home, so they decided to quarantine for more than two weeks. Feeling physically drained and fearing that they might die, the couple shared their feelings and supported each other. The horrible experience happened to be also an emotional, beautiful moment.
Andrew and Julia came to realize that pandemic highlighted and pointed out the issues that existed before. People are striving for intimacy, intimate conversations, deep talks. But for a number of reasons, they just turn like a squirrel in a wheel, doing everything, but not what they care about.
Pandemic paused the world, and people suddenly received much needed time to talk, to share, to express.
8. The New post-COVID-19 Era And It's Challenges
We believe that we are entering the new post-COVID-19 era. And we can see a lot of opportunities and threats here.
The major questions we want to put on the table are the lack of publicly acceptable discourse on human sexuality, stigma on female sexuality, sex education, pleasure, and many other gaps. We need to come up with a way to discuss all these questions and improve people's sexual lives, even though mainstream platforms do not leave space for a free and open discussion.
We think that the sextech industry should be regulated. We are against porn or other NSFW content on Facebook or other mainstream platforms. Tech giants' regulations are not ready to address these issues when it comes to the wave 2 sextech companies — policies are simply don't distinguish between first and second wave companies.
We would love to be a part of this historical change. We offer you to have a look at projects like Approved Not Approved, which highlight the industry's issues greatly. We are inviting everyone interested in continuing the discussion at our newly created private professional WhatsApp SexTech Community group, to be able to join you'll need to submit a registration form.