The Best Threesome Dating Apps - Fantasy App
Ah, the threesome. Few things excite so many so much. The very mention of it is enough to dilate the pupils of even the most promiscuous among us. But how do you find one? The answer, as is often the case in our smartphone-obsessed world, is the best threesome dating apps.
But before we get to it, keep in mind that you don't always have to go for the traditional idea of a male/female/female threesome. An all-male or all-female one is just as much fun. You don't have to restrict yourself in the sex-positive space.
So, no matter your sexual orientation or preferences, you can be sure that our list of the best threesome dating apps will help you find the ideal three-way.
The Best Threesome Dating Apps for You
Feeld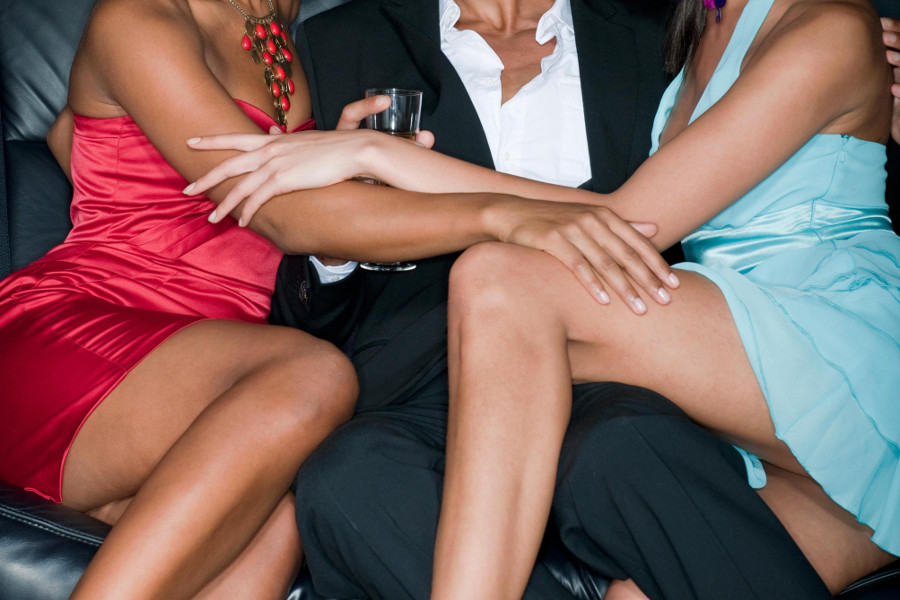 Originally known for the media storm that surrounded it after it debuted under the name 3nder and got sued by Tinder, Feeld has since rebranded and become one of our top picks for threesome dating apps.
While the original app specifically targeted threesomes, it has since expanded its repertoire and opened itself up to a larger part of the sex-positive community. It's now for everyone who wants to explore their kinkier, more curious, and open-minded side, making it not only ideal for threesomes, but also for anyone that wants to experiment.
Feeld was designed with privacy in mind, giving individuals and couples alike the chance to meet and hang out with people who share similar interests.
Using a Facebook verification system to give you access to its threesome dating app properties, you can also hide your Feeld profile from certain people in order to maintain your privacy.
You can match and chat with anyone you find interesting, and also start group chats so that you can organize a night of threesome fun.
3Somer
As the name suggests, 3Somer is a threesome dating app specifically catered to people looking to indulge in their threesome fantasies.
Branded by their marketing team as "Tinder for couples, singles and swingers," it employs a similar interface and swiping mechanic, as you might expect. Profiles are set up like Facebook profiles, allowing you to add as little or as much information as you like to help others see if they would like to match with you.
You can also post photos and status updates, which means that 3Somer acts almost like a social network for threesome aficionados. This is great, as it gives you the chance to learn a bit more about your potential matches before you meet, increasing the chances of good chemistry
One huge con is the fact that there aren't a ton of matches. According to one user review, "This has been a great app, it works well and is easy to use. When more people sign up I'm sure my matches will go up."
So this threesome dating app has potential, but perhaps wait until its user base is higher?
Tinder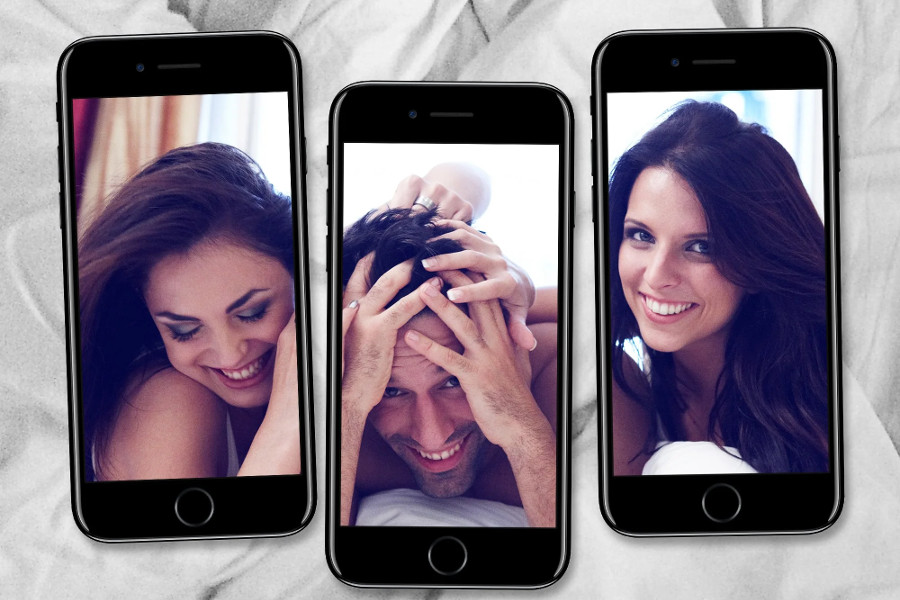 What can be said about Tinder that hasn't already been said? As one of the most popular dating apps in the world, it also acts as a serviceable threesome dating app.
However, that fabled partner is more of a unicorn on Tinder than on other, more niche dating apps. The internet provides tons of tips on how you can reel in the ideal match, but it's a lot to read. The basic gist is that you should just be open and honest, both in your photos and your Tinder bio.
Honesty is always the best policy, and transparency will give you the best chance of getting a match that will lead to a threesome.
These tactics also apply to the other more mainstream apps like Grindr and OkCupid. Apps like these are not specifically designed to be threesome dating apps, but every now and then you may get lucky, if only because of the massive userbases on each one.
Pure
Let's get this out of the way first – Pure is not the threesome dating app for you if you don't handle pressure too well.
Designed as an app that values your time when looking for a local threesome, the people behind Pure want you to have your threesome as soon as possible. Hence, they give you a limited amount of time to do so.
Every user only has one hour to arrange a meeting with the people that they have matched with. After 60 minutes, the chat will disappear. This is Pure's effort to promote offline interaction, but those of us with a nervous disposition may end up being stressed out by the pressure of it all.
However, it does promote being straightforward and to the point, since the time limit means you can't beat around the bush. Just match and get talking in a judgement-free zone. Pure's algorithm will take all your characteristics and preferences into account when showing you people around you, so there's a good chance of a suitable match.
While it is free to join, you need to pay for membership to be able to message other users.
Fantasy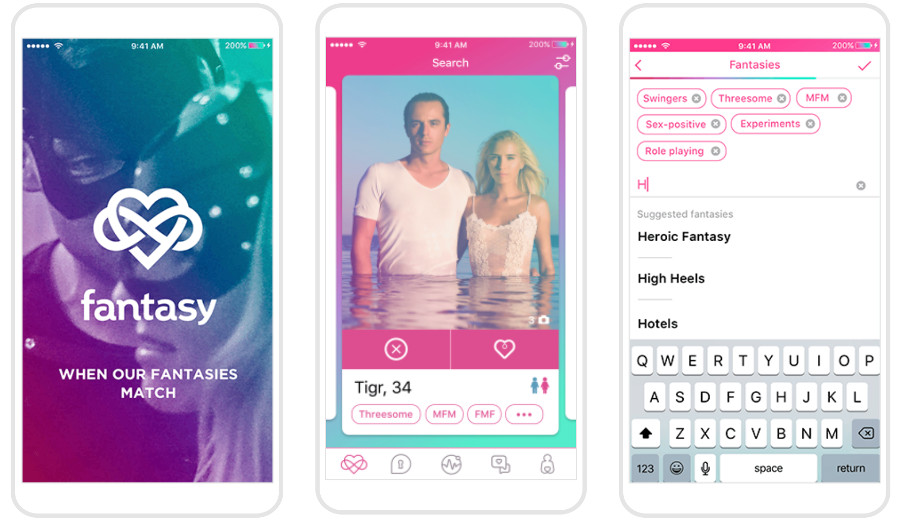 Fantasy wants to get in on the territory of threesome dating apps like Feeld by bases its connections off the sexual fantasies of the user.
According to the founder of the app, Andriy Yaroshenko, "It's an app for people in non-monogamous relationships or alternative relationships. These people are sex positive, open-minded. Often they need an instrument to find couples and singles who are also sex positive and open-minded."
It's about love and being free of judgement. Fantasy offers you a massive selection of specially selected fantasies for you to peruse every day in the form of fantasy cards. This allows you to explore exciting, steamy selections to give you a glimpse into a world you may not have seen before.
Or you can create private rooms for a select few to discover the fantasies you have in common. Perhaps you can even act on them?
The founder wants to build a sex-positive community to let people explore their desires with other willing partners. This is an incredibly important goal, as it allows those in the community to build stronger ties with each other and let us slowly erode the stigma against less mainstream sexual practices.
All in all, Fantasy ticks a lot of boxes for the more sex positive among us, making it not only a great threesome dating app, but an excellent app for any sex positive person out there.
If you have any interesting threesome dating app suggestions, why not let us know? We'd love to hear from you.